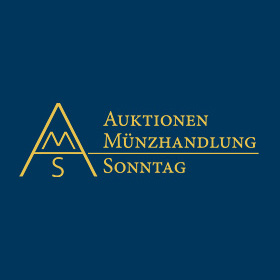 Ancient, German and World Coins and Medals
Part 1: Mo, 31.05.2021, from 2:00 PM CEST
Part 2: Tu, 01.06.2021, from 10:00 AM CEST

Pre bids are accepted until:
Part 1: Su, 30.05.2021, until 5:00 PM CEST
Part 2: Su, 30.05.2021, until 5:00 PM CEST

Due to the current pandemic situation we will conduct our auction 34 on May 31th and June 1st 2021 without public floor!
Description
Römische Münzen
Römische Republik. Q. Minucius Thermus M.f. 103 v. Chr.
Denar -Rom-. Behelmter Marskopf nach links / Römischer Soldat mit Schwert und Schild kämpft gegen barbarischen Krieger, dazwischen zu Boden gesunkener Krieger, im Abschnitt Q THERM M F. Alb. 1123, Cr. 319/1, Sear 197. 3,85 g
leichte Tönung, sehr schön-vorzüglich
Zur Erinnerung an Q. Minucius Thermus, Konsul 193, der im Krieg gegen die Thraker 188 (Friede von Apamea) fiel.
Bidding
| | |
| --- | --- |
| Starting price | 90 EUR |
| Estimate | 100 EUR |
Bid live
31 May 2021, from 2:00 PM CEST