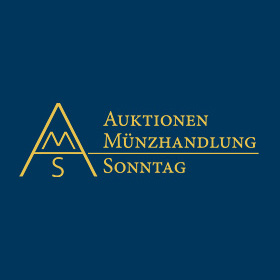 Ancient, German and World Coins and Medals
Part 1: Mo, 31.05.2021, from 2:00 PM CEST
Part 2: Tu, 01.06.2021, from 10:00 AM CEST

Pre bids are accepted until:
Part 1: Su, 30.05.2021, until 5:00 PM CEST
Part 2: Su, 30.05.2021, until 5:00 PM CEST

Due to the current pandemic situation we will conduct our auction 34 on May 31th and June 1st 2021 without public floor!
Description
Römische Münzen
Römische Republik. L. Marcius Philippus 113 oder 112 v. Chr.
Denar -Rom-. Kopf König Philipps V. von Makedonien mit makedonischem Königshelm und Diadem nach rechts, davor "Phi", dahinter Monogramm / Standbild eines Reiters mit Palmzweig nach rechts, auf der Basis L PHILIPPVS, darunter Wertzeichen. Alb. 1079, Cr. 293/1, Sear 170. 3,77 g
leicht raue Oberfläche, sehr schön
Der Münzmeister ist wohl L. Marcius Philippus, Konsul 91. Das Revers zeigt die Ehrenstatue des Q. Marcius Tremulus, Konsul 306 und 288, des Triumphators über die Samniten und die Herniker, die vor dem Tempel des Castor und Pollux stand.
Bidding
| | |
| --- | --- |
| Starting price | 90 EUR |
| Estimate | 100 EUR |
Bid live
31 May 2021, from 2:00 PM CEST