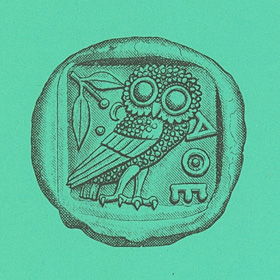 Ancient, Medieval and Modern Coins, Numismatic Literature
Fr, 20.11.2020, from 10:00 AM CET

The auction is closed.
Due to new COVID-19 measures, the auction will take place without room audience. During the auction, live bidding is only possible online or, if registered early, by phone.
Description
GRIECHISCHE MÜNZEN. SIZILIEN. SYRAKUS.
Tetradrachmon, 410-399 v. Chr. Wagenlenker mit Kentron in der Linken und Zügeln in der Rechten in Quadriga n.l., die Pferde in vollem Galopp, zwei mit zurückgewendeten Köpfen. Darüber fliegende Nike mit Kranz. Rv. (ΣΥΡΑΚ-Ο-ΣΙΩΝ) Kopf der Arethusa n.l., die Haare in Ampyx und Sphendone mit drei Sternen verziert. Unter dem Band quellen Locken hervor und flattern nach hinten. Die Nymphe trägt Ohrgehänge und Perle an einer Halsschnur. Im Feld vier Delphine; einer taucht hinter dem Kopf der Arethusa auf. 17,43 g. Tudeer 84. SNG Lloyd 1395. Dewing Coll. 851 (stgl.). Fischer-Bossert CAT 175,84a (dieses Exemplar). Gutes sehr schön Aus Münzen & Medaillen AG, Basel, Auktion 41 (1970), 33 ("Frisch erhaltenes Exemplar im Stil des Eukleidas").
Bidding
| | |
| --- | --- |
| Price realized | 4'200 EUR |
| Starting price | 1'040 EUR |
| Estimate | 1'300 EUR |
The auction is closed.