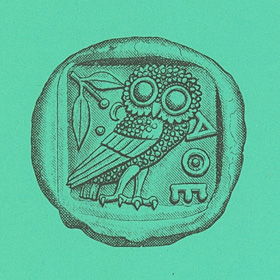 Ancient, Medieval and Modern Coins, Numismatic Literature
Fr, 20.11.2020, from 10:00 AM CET

The auction is closed.
Due to new COVID-19 measures, the auction will take place without room audience. During the auction, live bidding is only possible online or, if registered early, by phone.
Description
GRIECHISCHE MÜNZEN. SIZILIEN. NAKONA.
Tetras, Bronze, um 420 v. Chr. Dionysos auf einem Maultier n.l. reitend, in der erhobenen Rechten den Kantharos haltend, in der Linken den Thyrsos; im Felde drei Wertkugeln (=3 Onkiai). Rv. ΝΑΚΟΝΑΙ-ΟΝ Nymphenkopf n.r., das Haar von einem dünnen Band mehrfach umwickelt und auf dem Hinterkopf in einem Schopf; sie trägt ein Perlencollier. 4,50 g. Calciati I, 325,1. SNG ANS 512. Selten. Sehr schön
Bidding
| | |
| --- | --- |
| Price realized | 360 EUR |
| Starting price | 80 EUR |
| Estimate | 100 EUR |
The auction is closed.