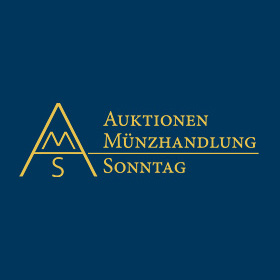 Ancient, German and World Coins and Medals
Part 1: Mo, 29.11.2021, from 2:00 PM CET
Part 2: Tu, 30.11.2021, from 10:00 AM CET

Pre bids are accepted until:
Part 1: Su, 28.11.2021, until 5:00 PM CET
Part 2: Su, 28.11.2021, until 5:00 PM CET

Due to the current pandemic situation we will conduct our auction 35 on November 29th and 30th 2021 without public floor!
Description
Makedonia. Philippos III. Arrhidaios 323-317 v. Chr.
Goldstater 323-317 v. Chr. -Babylon-. Büste der Athena mit korinthischem Helm nach rechts / Nike mit Stylis und Kranz nach links stehend, unten im Feld Beizeichen AY. Price p. 40, P 178, SNG Cop. 1069. 8,55 g sehr schön-vorzüglich Aus Auktion 71 der Münzhandlung Gerhard Hirsch, München im März 1971, Nr. 46 (dort irrtümlich Alexander III. zugewiesen).
Bidding
| | |
| --- | --- |
| Starting price | 2'250 EUR |
| Estimate | 2'500 EUR |
Bid live
29 Nov. 2021, from 2:00 PM CET