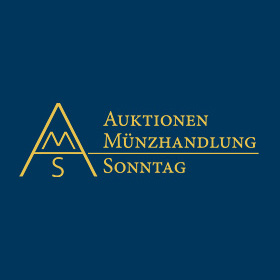 Ancient, German and World Coins and Medals
Part 1: Mo, 31.05.2021, from 2:00 PM CEST
Part 2: Tu, 01.06.2021, from 10:00 AM CEST

Pre bids are accepted until:
Part 1: Su, 30.05.2021, until 5:00 PM CEST
Part 2: Su, 30.05.2021, until 5:00 PM CEST

Due to the current pandemic situation we will conduct our auction 34 on May 31th and June 1st 2021 without public floor!
Description
Griechische Münzen
Lydia. Könige von Lydia. Zeit vor Kroisos 650-561 v. Chr.
El-Trite (= Drittelstater) vor 561 v. Chr. -Sardeis-. Löwenkopf mit offenem Maul nach rechts, auf der Nase eine Strahlenwarze / Zwei nebeneinander gesetzte Quadrata incusa. SNG von Aulock 2869, Weidauer 24,86, Traité Tf. II,6, Rosen Coll. 653. 4,66 g
selten, ordentlich zentriert, einige Prüfpunzen am Rand, sehr schön
Erworben in den 1970er Jahren im süddeutschen Münzhandel.
Bidding
| | |
| --- | --- |
| Starting price | 2'250 EUR |
| Estimate | 2'500 EUR |
Bid live
31 May 2021, from 2:00 PM CEST