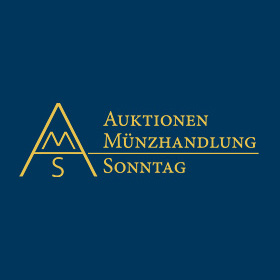 Ancient, German and World Coins and Medals
Part 1: Mo, 31.05.2021, from 2:00 PM CEST
Part 2: Tu, 01.06.2021, from 10:00 AM CEST

Pre bids are accepted until:
Part 1: Su, 30.05.2021, until 5:00 PM CEST
Part 2: Su, 30.05.2021, until 5:00 PM CEST

Due to the current pandemic situation we will conduct our auction 34 on May 31th and June 1st 2021 without public floor!
Description
Griechische Münzen
Makedonia. Alexander III. der Große 336-323 v. Chr.
AV-Doppelstater 330-320 v. Chr. -Amphipolis-. Athenakopf im attischen Helm nach rechts mit dreifacher Helmzier und Schlange / Nike im langen Chiton frontal stehend mit nach links gewandtem Kopf, in der Linken Stylis (Schiffsmast) haltend, in der ausgestreckten Rechten ein Kranz. Links im Feld Dreizack. Price 171, SNG Cop. 622. 17,14 g
sehr selten und mit hohem Relief, minimale Randfehler und kleine Randprüfstelle,
sehr schön-vorzüglich
Erworben bei der Münzen und Medaillen AG, Basel, im Dezember 1961.
Bidding
| | |
| --- | --- |
| Starting price | 9'000 EUR |
| Estimate | 10'000 EUR |
Bid live
31 May 2021, from 2:00 PM CEST