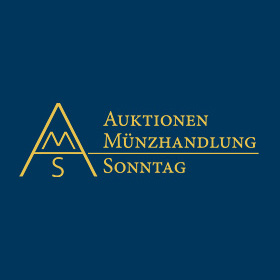 Ancient, German and World Coins and Medals
Part 1: Mo, 31.05.2021, from 2:00 PM CEST
Part 2: Tu, 01.06.2021, from 10:00 AM CEST

Pre bids are accepted until:
Part 1: Su, 30.05.2021, until 5:00 PM CEST
Part 2: Su, 30.05.2021, until 5:00 PM CEST

Due to the current pandemic situation we will conduct our auction 34 on May 31th and June 1st 2021 without public floor!
Description
Griechische Münzen
Makedonia. Könige von Makedonien. Philippos II. 359-336 v. Chr.
AV-Hemistater 340-328 v. Chr. -Pella-. Kopf des jugendlichen Herakles im Löwenfell nach rechts / Löwenprotome im Sprung nach rechts, darunter Dreizack nach rechts. Le Rider 238,46b (dieses Exemplar!), SNG ANS 217. 4,27 g
sehr selten und von feinem Stil, sehr schön-vorzüglich
Aus Auktion 28 der Adolph Hess AG Luzern und Bank Leu & Co. AG Zürich, Luzern 1965, Nr. 150, ex. Slg. Cumberland Clark (Auktion Sotheby, Wilkinson & Hodge, London, 19.-21.1.1914, Nr. 363).
Bidding
| | |
| --- | --- |
| Starting price | 3'600 EUR |
| Estimate | 4'000 EUR |
Bid live
31 May 2021, from 2:00 PM CEST