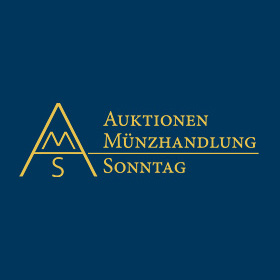 Ancient, German and World Coins and Medals
Part 1: Mo, 31.05.2021, from 2:00 PM CEST
Part 2: Tu, 01.06.2021, from 10:00 AM CEST

Pre bids are accepted until:
Part 1: Su, 30.05.2021, until 5:00 PM CEST
Part 2: Su, 30.05.2021, until 5:00 PM CEST

Due to the current pandemic situation we will conduct our auction 34 on May 31th and June 1st 2021 without public floor!
Description
Griechische Münzen
Kalabria. Tarent.
AV-Hemistater (nach attischem Standard) 320-315 v. Chr. TAPA (rückläufig). Mädchenkopf (Satyra?) mit Ohranhänger und Perlencollier nach links, das Haar von einem Band umwickelt und auf dem Hinterkopf in einem Krobylos endend. Unter dem Kinn Delphin nach links schwimmend / Phalantos -nackt und mit fliegender Chlamys- auf einem Delphin über einem Wellenband nach links reitend. In der Linken einen Dreizack haltend, auf der vorgestreckten Rechten eine ihn bekränzende Nike. Vlasto 25, SNG Lloyd 185, Fischer-Bossert 354,G12/d (dieses Exemplar!). 4,27 g
sehr selten und von feinem hellenistischem Stil, winzige Randprüfstelle, gutes sehr schön
Erworben aus der Lagerliste 281 der Münzen und Medaillen AG, Basel 1967, Nr. 2; ex. Slgn. A.J. Evans und A.H. Lloyd, ehemals Dublette des British Museum London.
Bidding
| | |
| --- | --- |
| Starting price | 5'400 EUR |
| Estimate | 6'000 EUR |
Bid live
31 May 2021, from 2:00 PM CEST