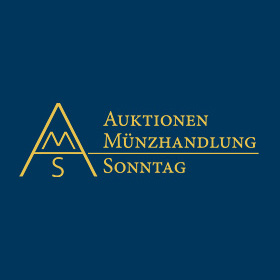 Ancient, German and World Coins and Medals
Part 1: Mo, 31.05.2021, from 2:00 PM CEST
Part 2: Tu, 01.06.2021, from 10:00 AM CEST

Pre bids are accepted until:
Part 1: Su, 30.05.2021, until 5:00 PM CEST
Part 2: Su, 30.05.2021, until 5:00 PM CEST

Due to the current pandemic situation we will conduct our auction 34 on May 31th and June 1st 2021 without public floor!
Description
Griechische Münzen
Kalabria. Alexander I. der Molosser ca. 350-331 v. Chr., König von Epirus.
AV-Obol ca. 333-331 v. Chr. Heliosbüste im Strahlenkranz von vorn, leicht nach links geneigt / Blitzbündel zwischen je zwei Buchstaben (Alpha-Lambda sowie Epsilon-Xi). Vlasto 1865, SNG ANS 976, Fischer-Bossert S. 380,4. 0,66 g
selten, sehr schön-vorzüglich/vorzüglich
Aus Auktion 12 der Münzhandlung H. Blaser-Frey, Freiburg/Br. 1964, Nr. 1127.
Bidding
| | |
| --- | --- |
| Starting price | 1'800 EUR |
| Estimate | 2'000 EUR |
Bid live
31 May 2021, from 2:00 PM CEST