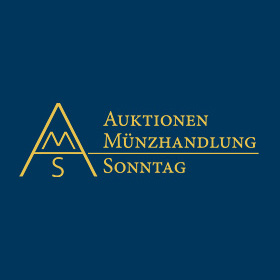 Ancient, German and World Coins and Medals
Part 1: Mo, 31.05.2021, from 2:00 PM CEST
Part 2: Tu, 01.06.2021, from 10:00 AM CEST

Pre bids are accepted until:
Part 1: Su, 30.05.2021, until 5:00 PM CEST
Part 2: Su, 30.05.2021, until 5:00 PM CEST

Due to the current pandemic situation we will conduct our auction 34 on May 31th and June 1st 2021 without public floor!
Description
Keltische Münzen
Süddeutschland und angrenzende Gebiete. Vindeliker.
Goldenes Regenbogenschüsselchen (Stater) "Typ Vogelkopf". 1./2. Jh. v.Chr. Vogelkopf mit deutlich sichtbarem Auge und langem, dünnen Schnabel zwischen zwei Punkten nach links in einem fast geschlossenen Dreiviertelkranz mit zwei Endkugeln und einem undeutlichen Zeichen / Fünf Kugeln in Torques (von den beiden oberen, linken gehen Strahlen nach links zum Torques, die beiden Strahlen von der mittleren Kugel haben einen kleinen Querstrich. Kellner Typ IID sowie vgl. 2327, Slg. Flesche -. 7,41 g
sehr schön
Aus einem Münchener Nachlass um 1980 mit diversen -in den Nachkriegsjahren- bei Goldschmieden gekauften Goldmünzen.
Bidding
| | |
| --- | --- |
| Starting price | 2'250 EUR |
| Estimate | 2'500 EUR |
Bid live
31 May 2021, from 2:00 PM CEST