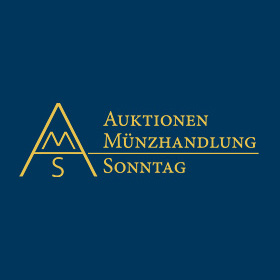 Ancient, German and World Coins and Medals
Part 1: Mo, 30.05.2022, from 1:00 PM CEST
Part 2: Tu, 31.05.2022, from 10:00 AM CEST

Pre bids are accepted until:
Part 1: Su, 29.05.2022, until 5:00 PM CEST
Part 2: Su, 29.05.2022, until 5:00 PM CEST

Due to the current pandemic situation we will conduct our auction 36 on May 30th and 31th 2022 without public floor!
Description
Stolberg-Wernigerode. Heinrich Ernst 1645-1672
Breiter Taler 1672 -Wernigerode-. Auf seinen Tod. Acht Zeilen Schrift mit Lebensdaten über Totenschädel und gekreuzten Beinknochen, darunter nochmals zwei Zeilen Schrift / Hirsch nach links schreitend über grasigem, reich mit fünfblättrigen Blumen bewachsenem Erdboden. Neben dem linken Vorderlauf die Initialen I-B des Münzmeisters Johann Bostelmann. Frieder. 1279, Dav. 7788, Slg. Friederich 696 (335 Goldmark!). äußerst selten, feinst zaponiert, winzige Kratzer, vorzüglich Friederich schreibt in seiner Anmerkung zu diesem imposanten Sterbetaler: "Die großen Buchstaben des zweizeiligen, auf der Vs. unter dem Schädel angebrachten Spruches, der sich etwa mit "Der irdischen Fesseln und der Arbeit ledig schwang ich mich zum ewigen Leben empor" übersetzen läßt, ergeben den Namen und Titel des Verstorbenen "Heinricus Ernestus Comes (de) Stolberg-Wernigerode"; anstatt EICH sollte auf der Rs. richtiger AIG(imont) stehen".
Bidding
| | |
| --- | --- |
| Starting price | 4'500 EUR |
| Estimate | 5'000 EUR |
Bid live
31 May 2022, from 10:00 AM CEST