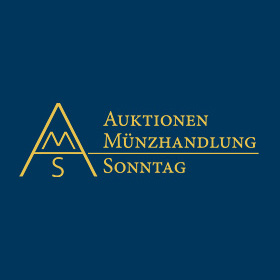 Ancient, German and World Coins and Medals
Part 1: Mo, 29.11.2021, from 2:00 PM CET
Part 2: Tu, 30.11.2021, from 10:00 AM CET

Pre bids are accepted until:
Part 1: Closed
Part 2: Closed

Due to the current pandemic situation we will conduct our auction 35 on November 29th and 30th 2021 without public floor!
Description
Braunschweig-Wolfenbüttel. Wilhelm 1831-1884.
Doppelter Vereinstaler - PROBE 1849 CvC. Mit glattem Rand. AKS 74, J. 245 IX, Kahnt 156Ab, Stutzmann BST 341 PII. von größter Seltenheit, Prachtexemplar, feinst zaponierter Erstabschlag, Stempelglanz Aus Auktion 18 der KPM, Mannheim 1980, Nr. 2088. Von dieser äußerst seltenen Doppeltaler-Probe wurden wohl nur drei Exemplare mit Randschrift sowie wenige weitere mit glattem Rand -wie das vorliegende Stück- gefertigt.
Bidding
| | |
| --- | --- |
| Starting price | 6'750 EUR |
| Estimate | 7'500 EUR |
Bid live
30 Nov. 2021, from 10:00 AM CET