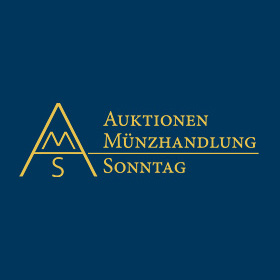 Ancient, German and World Coins and Medals
Part 1: Mo, 29.11.2021, from 2:00 PM CET
Part 2: Tu, 30.11.2021, from 10:00 AM CET

Pre bids are accepted until:
Part 1: Su, 28.11.2021, until 5:00 PM CET
Part 2: Su, 28.11.2021, until 5:00 PM CET

Due to the current pandemic situation we will conduct our auction 35 on November 29th and 30th 2021 without public floor!
Description
Römische Republik. Anonym vor 211 v. Chr.
Didrachme 269-266 v. Chr. -Rom-. Büste des jugendlichen Herkules mit Diadem nach rechts mit Keule und Löwenfell / Römische Wölfin nach rechts, die Zwillinge Romulus und Remus säugend, im Abschnitt ROMANO. Alb. 30, Cr. 20/1, Sear 24. 6,73 g sehr selten, feine Tönung, sehr schön-vorzüglich Dieser Typ ist die erste in Rom selbst geprägte Münze. Er lässt sich auf das Jahr 269 v.Chr. datieren, als C. Fabius Pictor und Q. Ogulnius Gallus das Konsulat bekleideten. Q. Ogulnius hatte als Aedil 296 v.Chr. das abgebildete Denkmal aufgestellt, Herkules ist der Schutzpatron der Gens Fabia, steht also in enger Beziehung zu C. Fabius.
Bidding
| | |
| --- | --- |
| Starting price | 3'150 EUR |
| Estimate | 3'500 EUR |
Bid live
29 Nov. 2021, from 2:00 PM CET