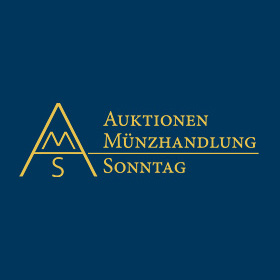 Ancient, German and World Coins and Medals
Part 1: Mo, 23.11.2020, from 2:00 PM CET
Part 2: Tu, 24.11.2020, from 10:00 AM CET

The auction is closed.
Due to the current pandemic situation we will conduct our auction 33 on November 23rd and 24th without public floor!
Description
Altdeutsche Münzen und Medaillen. Bamberg, Bistum. Johann Philipp von Gebsattel 1599-1609
Dukat 1602 -Nürnberg-. Münzmeister Paul Dietherr. Die beiden Wappenschilde von Bamberg und von Gebsattel (Bockskopf nach links) in bogiger Einfassung, darüber Krone / Gekrönter Kaiser Heinrich II. und Kaiserin Kunigunde halten Modell der Domkirche, unten das kleine Wappen der Gebsattel. Krug 210, Heller -, Fr. 160, Slg. Vogel 4187, Slg. Erl. -. 3,47 g
äußerst seltenes Prachtexemplar mit feiner Goldtönung, vorzüglich
Johann Philipp von Gebsattel ließ für das Bistum Bamberg die ersten Dukaten prägen. Es existieren die Jahrgänge 1600, 1601 und 1602. Laut den Abrechnungen des Münzmeisters Paul Dietherr wurden im Jahre 1600 828 und 1601 912 Exemplare geprägt. Wenn auch selten, so kommen diese im Handel gelegentlich vor. Von dem hier vorliegenden Jahrgang ist leider keine Auflagenzahl überliefert, doch dürfte sie deutlich geringer sein. Joseph Heller kannte diesen Jahrgang nicht und als Standort konnte Wolfgang Krug nur das Geldmuseum der Deutschen Bundesbank nennen. Wir konnten kein Auktionsvorkommen nach 1945 feststellen. Der Jahrgang 1600 erzielte bei Künker, Auktion 331 (30.1.2020) einen Zuschlag von 24.000 € (Nr. 175).
Bidding
| | |
| --- | --- |
| Price realized | 27'000 EUR |
| Starting price | 9'000 EUR |
| Estimate | 10'000 EUR |
The auction is closed.