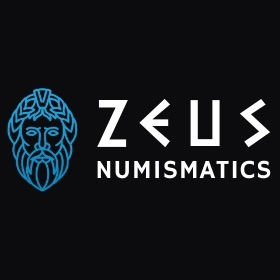 Greek, Roman, Byzantine, Medieval, Islamic Coins and Antiquities
Fr, 26.02.2021, from 6:00 PM CET

The auction is closed.
Please note that this auction has a reduced buyer's fee of only 10%.
Description
REVOLT OF THE HERACLII (608 - 620). Ae Follis. Alexandretta.
Obv: DmN ERACLIO CONSULII.
Crowned and draped facing busts of Heraclius and Heraclius Constantine; cross above.
Rev: Large M between A/N/N/O - X/III; staurogram above, A below; ΑΛΕΞΑΝΔ in exergue.
Sear 723; Sommer 10.6.
Condition: Very Fine
Weight: 11,5 gram
Diameter: 23,1
Bidding
Price realized

260 EUR

14 bids
Starting price

1 EUR
The auction is closed.