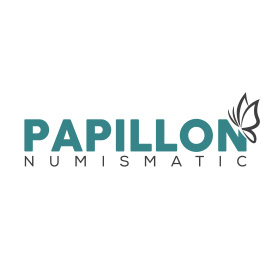 Ancient and World Coins
Sa, 06.03.2021, from 6:00 PM CET

Pre bids are accepted until:
Shortly before each lot is auctioned

Please note our new terms of sale. Shipping is now free of charge (Fedex), while the buyer's premium has changed to 13%.
Description
Justinian II AV Solidus. First reign. Constantinople, AD 692-695. IҺS CRISτOS RЄX RЄςNANτIЧM, facing bust of Christ Pantokrator / D IЧSτINI-AN-ЧS SЄRЧ CҺRISτI, Justinian standing facing, holding cross potent on steps in right hand, akakia in left; Γ; CONOP. DOC 7c.2; MIB 8a; Sear 1248. 4.44 g ,18,7mm, 7h.
Areas of weak strike, Near Extremely Fine.
Bidding
Current bid

800 EUR

20 bids
Starting price

160 EUR

Estimate

320 EUR
Bid live
6 Mar. 2021, from 6:00 PM CET