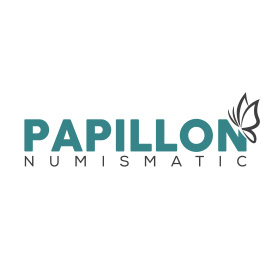 Ancient and World Coins
Sa, 06.03.2021, from 6:00 PM CET

Pre bids are accepted until:
Shortly before each lot is auctioned

Please note our new terms of sale. Shipping is now free of charge (Fedex), while the buyer's premium has changed to 13%.
Description
Byzantine
Philippicus (Bardanes) AV Solidus. Constantinople, AD 711-713. D N FILЄPICЧS MЧLTЧS AN, bust facing, with close beard, wearing loros and crown with cross, holding globus cruciger in right hand and eagle-tipped sceptre with cross above in left / VICTORIA AVSЧ Θ, cross potent on four steps; CONOB in exergue. DOC 1i; MIB 1; Sear 1447. 4.43g, 19,3mm, 6h.
Good Extremely Fine.
Bidding
Current bid

650 EUR

2 bids
Starting price

600 EUR

Estimate

850 EUR
Bid live
6 Mar. 2021, from 6:00 PM CET