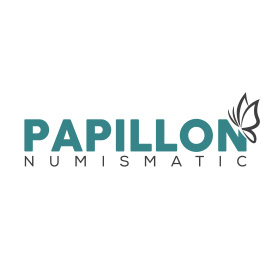 Ancient and World Coins
Sa, 06.03.2021, from 6:00 PM CET

Pre bids are accepted until:
Shortly before each lot is auctioned

Please note our new terms of sale. Shipping is now free of charge (Fedex), while the buyer's premium has changed to 13%.
Description
Bithynia, Asia Minor. Titus (79 - 81 AD). AE (27mm, 11.82 gm, 6h). AYTOKPA TITOΣ KAIΣAP ΣEBAΣ YIOΣ; laureate head of Titus to r. / EΠI M MAIKIOY POYΦOY ANΘYΠATOY (in the proconsulship of M. Maecus Rufus); palm tree, on l. cuirass, two spears, and helmet; on r. two spears and shield. (this coin). Very rare, particularly in this state of preservation. Natural green-red patina. Extremely Fine. This provincial Roman coin, attributed to the Koinon of Bithynia, is clearly related to the Jewish War. RPC II p. 97 notes that this coin has "...significance beyond Bithynia: the palm tree with obverse of Titus is a clear allusion to Titus' participation in the defeat of Judaea..."
Bidding
Current bid

420 EUR

9 bids
Starting price

200 EUR

Estimate

800 EUR
Bid live
6 Mar. 2021, from 6:00 PM CET