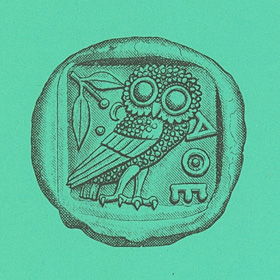 Ancient, Medieval and Modern Coins, Numismatic Literature
Fr, 20.11.2020, from 10:00 AM CET

The auction is closed.
Due to new COVID-19 measures, the auction will take place without room audience. During the auction, live bidding is only possible online or, if registered early, by phone.
Description
GRIECHISCHE MÜNZEN. SIZILIEN. NAXOS.
Drachme, 530-490 v. Chr. Dionysoskopf n.l. mit langem spitzem Bart und langen, leicht gewellten Haaren; er trägt einen Efeukranz. Das Ganze im Perlenkreis. Rv. NAX-ION Weintraube an Stengelstück ohne Einbiegung mit je einer Ranke, von zwei Blättern mit Innenzeichnung flankiert, r. neben dem Stiel A 4,12 g. Cahn, Naxos 113,49 (V35/R41). BMC Sicily 118,1. Von großer Seltenheit, wohl das 2. bekannte Exemplar. Dunkle Tönung. Knapper Schrötling. Gutes sehr schön Aus Bank Leu AG, Zürich, Auktion 20 (1978), 35.
Bidding
| | |
| --- | --- |
| Price realized | 10'250 EUR |
| Starting price | 1'600 EUR |
| Estimate | 2'000 EUR |
The auction is closed.