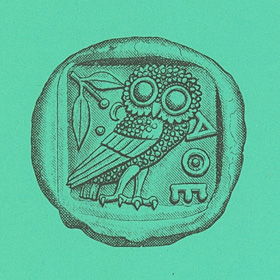 Ancient, Medieval and Modern Coins, Numismatic Literature
Fr, 20.11.2020, from 10:00 AM CET

The auction is closed.
Due to new COVID-19 measures, the auction will take place without room audience. During the auction, live bidding is only possible online or, if registered early, by phone.
Description
GRIECHISCHE MÜNZEN. SIZILIEN. KATANE.
Drachme, 405-403/2 v. Chr. Münzmeister Euainetos (unsigniert). Quadriga n. r. eilend; der Lenker wird von n.l. fliegender Nike bekränzt. Im Abschnitt ΚΑΤΑΝΑΙΩΝ Rv. ΑΜΕΝΑΝΟΣ Gehörnter, jugendlicher Kopf des Flussgottes Amenanos n.l. mit Tainia, von drei Fischen umringt. 4,13 g. SNG ANS 1263 var. (Fische). Rizzo Tf. 14,8 (stgl.). Hoover, HGC 2, 581 (dort Rv. zwei Fische, ein Flusskrebs). Winterthur 683 var. Getönt und leicht kristallisiert. Gutes sehr schön Aus Münzen & Medaillen AG, Basel, Liste 311 (April 1970),4. Der Fluss Amenanos, heute Giudicello, fließt heute unter dem Domplatz in Katane.
Bidding
| | |
| --- | --- |
| Price realized | 2'500 EUR |
| Starting price | 800 EUR |
| Estimate | 1'000 EUR |
The auction is closed.