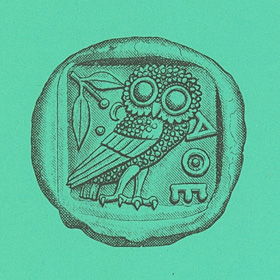 Ancient, Medieval and Modern Coins, Numismatic Literature
Fr, 20.11.2020, from 10:00 AM CET

The auction is closed.
Due to new COVID-19 measures, the auction will take place without room audience. During the auction, live bidding is only possible online or, if registered early, by phone.
Description
GRIECHISCHE MÜNZEN. BRUTTIUM. KROTON.
Nomos, 400-325 v. Chr. Kopf der Hera Lakinia von vorn im Fadenkreis, leicht n.r. geneigt; sie trägt eine mit Palmetten und Kreisen verzierte Stephane über langen welligen Locken. Rv. ΚΡΟ-ΤΩΝΙ-(ΑΤ)ΑΝ Jugendlicher, unbärtiger Herakles n.l. auf einem mit dem Löwenfell bedeckten Felsen sitzend, einen einhenkeligen Becher in der ausgestreckten Rechten, mit der Linken die Keule stützend. 7,79 g. SNG ANS 371. AMB 62,198. Rutter, HN Italy 2167. Vs. Graffiti. Rv. Schrötlingsfehler. Sehr schön Aus AUCTIONES AG, Basel, Auktion 6 (1976), 41.
Bidding
| | |
| --- | --- |
| Price realized | 3'500 EUR |
| Starting price | 800 EUR |
| Estimate | 1'000 EUR |
The auction is closed.