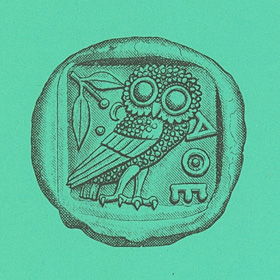 Ancient, Medieval and Modern Coins, Numismatic Literature
Fr, 20.11.2020, from 10:00 AM CET

The auction is closed.
Due to new COVID-19 measures, the auction will take place without room audience. During the auction, live bidding is only possible online or, if registered early, by phone.
Description
GRIECHISCHE MÜNZEN. BRUTTIUM. BRETTIOI.
Drachme, 211-203, geprägt in Kroton. Drapierte Nikebüste mit Diadem n.r., das Haar auf dem Hinterkopf in einem Chignon; im Felde l. Oinochoe. Rv. ΒΡΕΤΤΙΩΝ Der nackte, gehörnte Flussgott Aisaros frontal stehend, Mantel über dem l. Unterarm; er hält eine Lanze in der Linken, mit der Rechten bekränzt er sich, im Felde r. Monogramm ΠΑ 5,04 g. Scheu 52, S. 53. E.A. Arslan, Monetazione aurea ed argentea dei Brettii, Glaux 4 (1989), 147, AR 63-92 (dieses Exemplar erwähnt). SNG München 1242. Gutes sehr schön Der Aisaros oder Aesar ist ein Fluß bei Kroton (siehe z. B. Ovid, Metamorphosen, XV,23), der heutige Esaro. Aus Bank Leu & Co. AG, Zürich - Lagerliste "Bruttium", Dez. 1961, 6, sowie aus den Auktionen Numismatic Fine Arts (NFA), Inc., Beverly Hills IV (1977), 35 und Sotheby's, New York - The Nelson Bunker Hunt Collection 21./ 22.6.1990,208.
Bidding
| | |
| --- | --- |
| Price realized | 460 EUR |
| Starting price | 320 EUR |
| Estimate | 400 EUR |
The auction is closed.