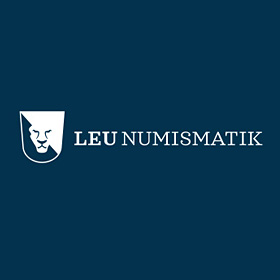 The collection of Roman coins of Dipl.-Ing. Adrian Lang, Part II
Tu, 19.07.2022, from 10:00 AM CEST

Pre bids are accepted until:
Tu, 19.07.2022, until 9:45 AM CEST

Web Auction 20 Part I, lots 110-1309, will be postponed to Saturday, 16 July 2022, 12:54 pm CEST due to overloading of the Leu website. Parts II (lots 1310-2606) and III (lots 2607-3900) will take place on Sunday, 17 July 2022, and Monday, 18 July 2022, respectively, each starting at 12 pm CEST. Leu Web Auction 21 (lots 4001-5468) will take place on Tuesday, 19 July 2022, starting at 10 am CEST.
Description
★ A very rare sestertius of Nero with an excellent portrait ★
Nero, 54-68. Sestertius (Orichalcum, 34 mm, 24.61 g, 7 h), Lugdunum, circa 66. IMP NERO CAESAR AVG PONT MAX TR P P P Laureate head of Nero to right, small globe at the point of bust. Rev. S - C Triumphal arch, showing the front, with a wreath hung across it, surmounted by the emperor in facing quadriga accompanied by Pax and Victory, flanked by two soldiers; statue of Mars in side niche; the faces and plinths of the arch are ornamented with elaborate reliefs showing battle scenes. BMC 329. Cohen -. RIC 498. Very rare. A well struck example with an excellent portrait. Slightly rough and with a minor edge crack, otherwise, good very fine.
From the collection of Dipl.-Ing. Adrian Lang and the Rainer Wilschke Collection, Numismatica Ars Classica 84, 20-21 May 2015, 1796 and Peus 349, 30 October-1 November 1996, 321.