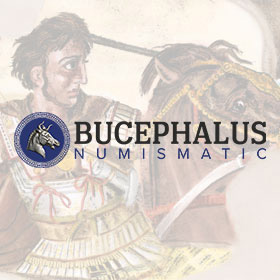 Greek, Roman, Byzantine and Medieval Coins, Seals, Antiquities
Part 1: Fr, 10.02.2023, from 6:00 PM CET
Part 2: Sa, 11.02.2023, from 6:00 PM CET

Pre bids are accepted until:
Part 1: Shortly before each lot is auctioned
Part 2: Shortly before each lot is auctioned

All items will be sent from our Belgium office.
Description
★ *Rare* *Very Fine Condition* ★
Michael III, "the Drunkard" 842-867 AD. AV, Solidus. Constantinopolis,
Rev: IҺSЧS XRISTOS *.
Half-length bust of Christ Pantokrator facing with cross behind, raising his right hand in benediction and holding book of Gospels in his left.
Rev: +mIXAHL bASIL[Є].
Crowned bust of Michael facing, wearing slight beard and loros, holding labarum in his right hand and akakia in his left.
SB 1688.
Condition: Extremely VF.
Weight: 4.3 g.
Diameter: 19.6 mm.
Bidding
Current bid

3'200 EUR

22 bids
Starting price

40 EUR
Bid live
11 Feb. 2023, from 6:00 PM CET