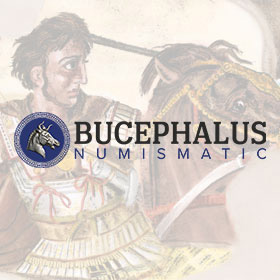 Greek, Roman, Byzantine and Medieval Coins, Seals, Antiquities
Part 1: Fr, 10.02.2023, from 6:00 PM CET
Part 2: Sa, 11.02.2023, from 6:00 PM CET

Pre bids are accepted until:
Part 1: Shortly before each lot is auctioned
Part 2: Shortly before each lot is auctioned

All items will be sent from our Belgium office.
Description
★ Stater, Very Rare! ★
IONIA. Uncertain. (Circa 625-600 BC). EL Stater. Milesian standard. Geometric type.
Obv: Geometric figure resembling a star, composed of a cross with lines radiating from angles, centered upon a polygon of eight sides; all within a square with slightly rounded sides
Rev: Two incuse square punches, one with a star of eight rays, the other quadripartite with a pellet in each quarter; between, a rectangular incuse of a zigzag pattern.
McFadden 6 = Zhuyuetang 1 = CNG 51, 429; Triton X, 318.
Condition:Fine/VF
Weight: 13.93 g.
Diameter: 19.1 mm.
Bidding
Current bid

6'500 EUR

14 bids
Starting price

40 EUR
Bid live
10 Feb. 2023, from 6:00 PM CET