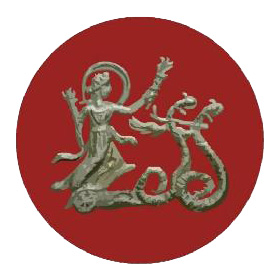 Greek, Roman, Byzantine, Medieval and Islamic Coins
Su, 31.10.2021, from 6:00 PM CET

The auction is closed.
Please note that the buyer's premium has increased to 15%.
Description
★ RARE ★
KINGS of MACEDON. Antigonos II.(277/6-239 BC).Amphipolis.Tetradrachm.
Obv : Horned head of Pan left, wearing goat's skin tied around his neck, lagobolon behind, all within the center of a Macedonian shield adorned with seven stars within double crescents.
Rev : BAΣIΛEΩΣ ANTIΓONOΥ.
Athena Alkidemos striding to left, holding shield and preparing to hurl thunderbolt; Macedonian helmet with transverse crest in field to left, HP monogram to right.
SNG Copenhagen 1199; SNG München 1077-1078; Pozzi 2037.
RARE.
Condition : A splendid piece.Attractive example.Full details in both sides and bold reliefs checkable at photo.Nicely toned.Extremely fine.
Weight : 16.8 gr
Diameter : 30 mm
Bidding
Price realized

550 EUR

6 bids
Starting price

350 EUR

Estimate

375 EUR
The auction is closed.