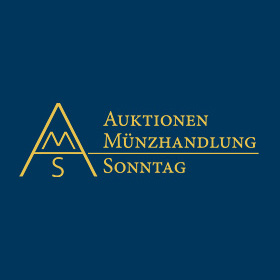 Ancient, German and World Coins and Medals
Part 1: Mo, 30.05.2022, from 1:00 PM CEST
Part 2: Tu, 31.05.2022, from 10:00 AM CEST

Pre bids are accepted until:
Part 1: Su, 29.05.2022, until 5:00 PM CEST
Part 2: Su, 29.05.2022, until 5:00 PM CEST

Due to the current pandemic situation we will conduct our auction 36 on May 30th and 31th 2022 without public floor!
Description
Württemberg. Johann Friedrich und die Münzstätte CHRISTOPHSTAL
Reichsguldiner zu 60 Kreuzer 1626. Das dreifach behelmte, quadrierte Wappen / Gekrönter Doppeladler, auf der Brust der Reichsapfel mit der Wertzahl 60. KR 335, Ebner 353, Dav. - (!), Slg. Wurster -, Raff (Christophstal) Abb. 28. äußerst selten, feine Patina, sehr schön Erworben aus der Lagerliste der Baden-Württembergischen Bank im Herbst 1991, dort die Nr. 341. Nach Meinung der einschlägigen Experten dieses Gebietes und unter Berücksichtigung der hier eingestreuten Raritäten wurde in dieser Liste ein weiterer kleiner Teil der großen Sammlung des Stuttgarter Sanitätsrats Schloßberger angeboten. Klein/Raff nennen als Vorkommen lediglich die Stücke in den Münzkabinetten Stuttgart und Tübingen sowie ein weiteres Exemplar, welches in Auktion 290 der Münzhandlung Dr. Busso Peus Nf. in Frankfurt/M. 1976 versteigert wurde. Diese Rarität fehlt ansonsten in nahezu allen großen Württembergsammlungen und auch in den Davenport-Bänden.
Bidding
| | |
| --- | --- |
| Starting price | 13'500 EUR |
| Estimate | 15'000 EUR |
Bid live
31 May 2022, from 10:00 AM CEST