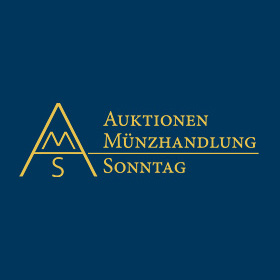 Ancient, German and World Coins and Medals
Part 1: Mo, 30.05.2022, from 1:00 PM CEST
Part 2: Tu, 31.05.2022, from 10:00 AM CEST

Pre bids are accepted until:
Part 1: Su, 29.05.2022, until 5:00 PM CEST
Part 2: Su, 29.05.2022, until 5:00 PM CEST

Due to the current pandemic situation we will conduct our auction 36 on May 30th and 31th 2022 without public floor!
Description
Nürnberg, Stadt.
Einseitige Silbermedaille 1593 von Johann Philipp von der Pütt, auf den Ratsherrn Andreas II. Imhoff im Alter von 64 Jahren. ANDREAS.IM.HOFF.SENIOR.AE 64.Ao 93. Bärtiges Brustbild des Patriziers von vorn mit Vollbart, gekräuseltem Kragen und pelzbesetztem Mantel, den Kopf leicht nach rechts gewandt. Slg. Erl. 1772 (dieses Exemplar!), Habich 2744, Imh. II 414.16. Slg. Felix (Hess 1895) 144. 52,5 mm, 70,05 g feiner Originalguss mit außergewöhnlich hohem Relief und von großer Seltenheit, minimale Henkelspur, vorzüglich Andreas II. Imhof(f) wurde am 20. Februar 1529 in Nürnberg geboren und starb dort am 16. Dezember 1597. Er entstammte einer der bedeutendsten Patrizierfamilien Nürnbergs und war der Sohn von Andreas I. Imhof und von Magdalena Reich. Wie sein Vater war er Großkaufmann und Ratsherr (Losunger) der Stadt. Sein Nachfahre Christoph Andreas Imhof verfasste 1780 bis 1782 die bis heute zitierte "Sammlung eines Nürnbergischen Münz-Cabinets".
Bidding
| | |
| --- | --- |
| Starting price | 4'500 EUR |
| Estimate | 5'000 EUR |
Bid live
31 May 2022, from 10:00 AM CEST