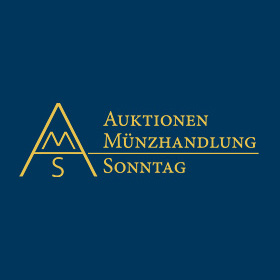 Ancient, German and World Coins and Medals
Part 1: Mo, 30.05.2022, from 1:00 PM CEST
Part 2: Tu, 31.05.2022, from 10:00 AM CEST

Pre bids are accepted until:
Part 1: Su, 29.05.2022, until 5:00 PM CEST
Part 2: Su, 29.05.2022, until 5:00 PM CEST

Due to the current pandemic situation we will conduct our auction 36 on May 30th and 31th 2022 without public floor!
Description
Hamburg, Stadt.
1/2 Portugalöser zu 5 Dukaten o.J. (1691) von J. Reteke (unsigniert). Ansicht der Börse, im Abschnitt das Hamburger Stadtwappen zwischen Palmzweigen / Die Personifikation der Bank sitzt nach rechts mit Caduceus, Buch und Waage. Rechts an einer Schatulle die Initialen L-B des Ludewig Becceler, ältester Bankbürger des Jahres 1683. Gaed. 1648, Geschichte in Gold 99. 38,2 mm, 17,34 g seltenes und attraktives Exemplar, minimale Kratzer und Randfehler, vorzüglich Für die Rückseite wurde der Stempel eines halben Bankportugalösers von 1683 (Gaed. 1621) verwendet.
Bidding
| | |
| --- | --- |
| Starting price | 6'750 EUR |
| Estimate | 7'500 EUR |
Bid live
31 May 2022, from 10:00 AM CEST