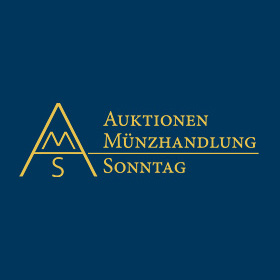 Ancient, German and World Coins and Medals
Part 1: Mo, 29.11.2021, from 2:00 PM CET
Part 2: Tu, 30.11.2021, from 10:00 AM CET

Pre bids are accepted until:
Part 1: Closed
Part 2: Closed

Due to the current pandemic situation we will conduct our auction 35 on November 29th and 30th 2021 without public floor!
Description
Württemberg. Friedrich II./I. 1797-1806-1816.
Goldene Prämienmedaille der Universität Tübingen im Gewicht zu 15 Dukaten (1809) für Medizin. FRIDERICH KOENIG VON WÜRTEMBERG. Kopf mit kurzen Haaren nach rechts, unten am Rand die Signatur I.L.W. des Stempelschneiders Johann Ludwig Wagner / Innerhalb eines Eichenkranzes, der mit einem Band umwunden ist, dreizeilige Inschrift LOHN / DES / FLEISES, im Abschnitt die Jahreszahl 1809. KR 16, Ebner 205, Slg. Wurster -, Slg. Hermann -. 45,8 mm, 52,55 g äußerst selten, kleine Kratzer, leichter Randfehler, vorzüglich Durch königliche Verordnung vom 21. Februar 1809 wurde in Tübingen eine goldene medizinische Preismedaille eingeführt, welche jährlich im Wert von 15 Dukaten ausgeprägt werden sollte. Die Verleihung wurde unter Bewertung des jeweiligen Kanzlers der Universität und der an dem Klinikum angestellten Professoren nach dem Vorschlag des Professors der Chirurgie vorgenommen. In den Jahren 1809 bis 1864 wurden 37 goldene Preismedaillen verliehen. Ein auffallender und bemerkenswerter Aspekt bei der Gestaltung dieser Medaille ist die frühe Verwendung der klassizistischen Kurzhaarfrisur Friedrichs, welche im Gegensatz bei den Münzen erst ab 1812 anzutreffen ist. Dieses ist das wohl erst vierte bekannte Stück und fehlt in allen großen Württemberg- und Universitätssammlungen.
Bidding
| | |
| --- | --- |
| Starting price | 13'500 EUR |
| Estimate | 15'000 EUR |
Bid live
30 Nov. 2021, from 10:00 AM CET