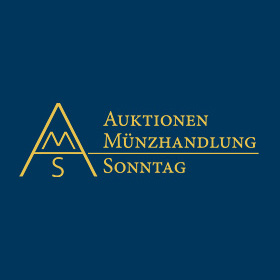 Ancient, German and World Coins and Medals
Part 1: Mo, 29.11.2021, from 2:00 PM CET
Part 2: Tu, 30.11.2021, from 10:00 AM CET

Pre bids are accepted until:
Part 1: Su, 28.11.2021, until 5:00 PM CET
Part 2: Su, 28.11.2021, until 5:00 PM CET

Due to the current pandemic situation we will conduct our auction 35 on November 29th and 30th 2021 without public floor!
Description
Kaiserzeit. Philippus I. Arabs 244-249.
AE-28 mm (Provinzialprägung für SYRIA - Coelesyria) -Heliopolis-. Belorbeerte und drapierte Panzerbüste nach rechts / Dreiviertelansicht des Tempels des Jupiter Heliopolitanus, rechts eine Ähre. BMC 15. 12,25 g selten in dieser Erhaltung, braungrüne Patina, vorzüglich Der Bau des auf dem Revers dargestellten, gewaltigen Jupitertempels begann unter Antonius Pius, unter Caracalla wurde das Werk vollendet. Allein der Vorhof des Tempels war 60 m lang! Über dem wuchtigen Altar auf dem 135 m langen und 113 m breiten Altarhof ließ später Theodosius I. eine Kirche errichten.
ZURÜCKGEZOGEN / WITHDRAWN
Bidding
Withdrawn
Starting price
‒
Estimate
‒
This lot has been withdrawn.