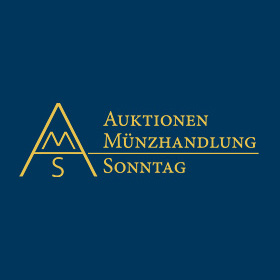 Ancient, German and World Coins and Medals
Part 1: Mo, 29.11.2021, from 2:00 PM CET
Part 2: Tu, 30.11.2021, from 10:00 AM CET

Pre bids are accepted until:
Part 1: Su, 28.11.2021, until 5:00 PM CET
Part 2: Su, 28.11.2021, until 5:00 PM CET

Due to the current pandemic situation we will conduct our auction 35 on November 29th and 30th 2021 without public floor!
Description
Persia. Achämeniden. Achämenidischer Großkönig.
Golddareike ca. 480-450 v. Chr. Großkönig im Knielauf nach rechts mit Bogen und Speer / Unregelmäßiges Incusum. Ovaler Schrötling. Slg. Cop. 274. 8,38 g überdurchschnittliche Erhaltung mit vollständigem Münzbild, sehr schön-vorzüglich Der Typus des königlichen Bogenschützen wurde unter Dareios I. (521-486 v.Chr.) eingeführt und ersetzte die von den Lydern übernommenen Kröseiden. Neben der Bezeichnung Dareike wurden diese Münzen nach ihrem Motiv auch Toxotai (gr. Bogenschützen) genannt. Sie dienten u.a. zur Bezahlung griechischer Söldner und als diplomatisches Mittel zur Durchsetzung persischer Interessen in Griechenland und Kleinasien. So soll der spartanische König Agesilaos gesagt haben, 10.000 "Bogenschützen" hätten ihn aus Asien vertrieben. Gemeint waren hier die persischen Zahlungen an seine Gegner in Griechenland. Diese Dareiken waren die bekanntesten Goldmünzen ihrer Zeit, bis nach der Zerschlagung des Perserreiches die Goldstatere Alexanders des Großen an ihre Stelle traten.
Bidding
| | |
| --- | --- |
| Starting price | 1'800 EUR |
| Estimate | 2'000 EUR |
Bid live
29 Nov. 2021, from 2:00 PM CET