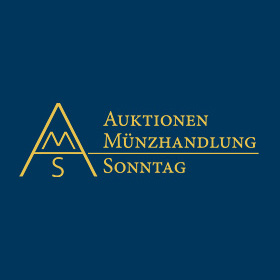 Ancient, German and World Coins and Medals
Part 1: Mo, 29.11.2021, from 2:00 PM CET
Part 2: Tu, 30.11.2021, from 10:00 AM CET

Pre bids are accepted until:
Part 1: Su, 28.11.2021, until 5:00 PM CET
Part 2: Su, 28.11.2021, until 5:00 PM CET

Due to the current pandemic situation we will conduct our auction 35 on November 29th and 30th 2021 without public floor!
Description
Attika. Athen.
Tetradrachme der "Pre-Persian-Gruppe" ca. 480 v. Chr. Athenakopf im attischen Helm nach rechts / Eule mit hersehendem Kopf nach rechts stehend vor Olivenzweig und Mondsichel, davor "AOE". Seltman Group E. 17,58 g selten, Prüfhieb auf dem Revers, fast sehr schön Aufgrund des eher primitiven Stils dieser Prägung sah man früher diese Gruppe als früheste attische Eulenprägung an. Die Zusammensetzung spätarchaischer Hortfunde zeigt jedoch, dass die Münzserie "Seltman Group E", zu der auch das vorliegende Exemplar gehört, erst nach der Wende zum 5. Jh. v.Chr. geschlagen wurde. Zu diesem Zeitpunkt befand sich Athen in einer brisanten Situation. In den Jahren vor dem zweiten Perserangriff 480 v.Chr. wurden neue, reiche Metallvorkommen entdeckt, die ein großangelegtes Schiffbauprogramm ermöglichten. Die Eile mit der dieses Programm - und damit einhergehend auch die Münzprägung- vorangetrieben wurde, führte zu einer Vernachlässigung der ästhetischen Ansprüche.
Bidding
| | |
| --- | --- |
| Starting price | 675 EUR |
| Estimate | 750 EUR |
Bid live
29 Nov. 2021, from 2:00 PM CET