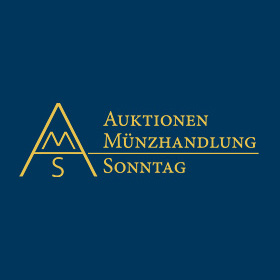 Ancient, German and World Coins and Medals
Part 1: Mo, 29.11.2021, from 2:00 PM CET
Part 2: Tu, 30.11.2021, from 10:00 AM CET

Pre bids are accepted until:
Part 1: Su, 28.11.2021, until 5:00 PM CET
Part 2: Su, 28.11.2021, until 5:00 PM CET

Due to the current pandemic situation we will conduct our auction 35 on November 29th and 30th 2021 without public floor!
Description
Lukania. Metapont.
Didrachme (Nomos/Stater) ca. 340-330 v. Chr. Kopf des bärtigen Leukippos mit korinthischem Helm nach rechts, dahinter Beizeichen Traube / META. Kornähre mit Blatt. SNG ANS 405, Johnston (Metapont) 64, A4.5 (Stempelgleich). 7,89 g selten und von feinem Stil, hübsche Patina, das Avers von leicht verbrauchtem Stempel, fast vorzüglich Aus Auktion 6 der Münzen und Medaillen Deutschland GmbH, Stuttgart 2000, Nr. 8.
Bidding
| | |
| --- | --- |
| Starting price | 450 EUR |
| Estimate | 500 EUR |
Bid live
29 Nov. 2021, from 2:00 PM CET