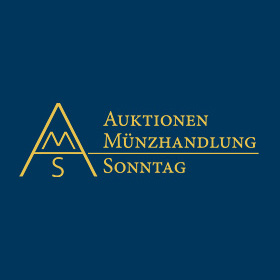 Ancient, German and World Coins and Medals
Part 1: Mo, 29.11.2021, from 2:00 PM CET
Part 2: Tu, 30.11.2021, from 10:00 AM CET

The auction is closed.
Due to the current pandemic situation we will conduct our auction 35 on November 29th and 30th 2021 without public floor!
Description
Britannia. Atrebates.
Epaticcus 20-43. Unit 35/43. Brustbild mit Löwenfell nach rechts, dahinter Bogenlinie mit Zentralpunkt, davor EPATI / Adler mit nach links gewandtem Kopf und geöffneten Schwingen hält eine Schlange in seinen Krallen, oben Punktringel (Sonne?). Slg. Flesche 38 (sowie Text S. 36f.), von Arsdell 580, Rudd 1346. 1,28 g seltenes, prägefrisches Prachtexemplar Die Verwandtschafts- und Machtverhältnisse des Epaticcus zu den Trinovantenkönigen Cunobelinus (10-40/43 n.Chr.) und Tasciovanus (25.v.Chr.-10 n.Chr.) sind noch nicht restlos geklärt. Jedenfalls bereitete er ab 35 n.Chr. einen Umsturz des Atrebatenkönigs Verica (10-40 n.Chr.) vor, den er im Jahr 42 erfolgreich vollzog; nur ein Jahr später war seine Herrschaft -nach der Invasion des Claudius in Britannien- auch schon wieder beendet.
Bidding
| | |
| --- | --- |
| Price realized | 550 EUR |
| Starting price | 360 EUR |
| Estimate | 400 EUR |
The auction is closed.