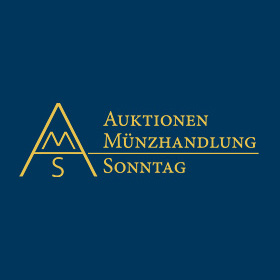 Ancient, German and World Coins and Medals
Part 1: Mo, 31.05.2021, from 2:00 PM CEST
Part 2: Tu, 01.06.2021, from 10:00 AM CEST

Pre bids are accepted until:
Part 1: Su, 30.05.2021, until 5:00 PM CEST
Part 2: Su, 30.05.2021, until 5:00 PM CEST

Due to the current pandemic situation we will conduct our auction 34 on May 31th and June 1st 2021 without public floor!
Description
Altdeutsche Münzen und Medaillen
Baden-Durlach. Karl Friedrich 1746-1811.
Rheingoldmedaille zu 5 Dukaten 1803 von Johann Heinrich Boltschauser, auf die Huldigung der Stadt MANNHEIM. Die Büste Karl Friedrichs nach links auf einem Sockel, der eine kleine Stadtansicht von Mannheim zeigt. Seitlich die beiden liegenden Flussgötter Rhein und Neckar / Acht Zeilen Schrift. WZ 130, Haas 427, Slg. Hermann -. Berst. 507a (unter Mannheim). 32,8 mm, 17,30 g
in Gold äußerst selten, minimale Kratzer, vorzüglich
Durch den Reichsdeputationshauptschluss von 1803 kam die rechtsrheinische Pfalzgrafschaft und die Städte Mannheim, Lahr und Meersburg an Baden. Auf die entsprechende Huldigung der Bevölkerung wurden jeweils Medaillen in Gold, Silber und Bronze geprägt, laut F. Wielandt (S. 261) von diesen Stempeln 98 Exemplare in Rheingold und 790 in Silber. Die vorliegende Medaille auf die Huldigung Mannheims ist in Gold äußerst selten und fehlte sogar in der Sammlung Hermann "Gold aus Baden-Württemberg" (Auktion der Raritäten, Münzen- und Medaillenhandlung Stuttgart, Februar 1999), die ansonsten allein von diesem Herrscher zehn (!) verschiedene Goldmedaillen aufweist.
Bidding
| | |
| --- | --- |
| Starting price | 6'750 EUR |
| Estimate | 7'500 EUR |
Bid live
1 Jun. 2021, from 10:00 AM CEST