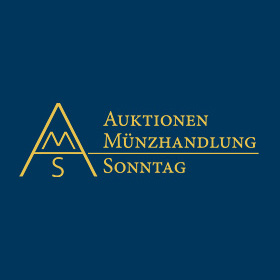 Ancient, German and World Coins and Medals
Part 1: Mo, 31.05.2021, from 2:00 PM CEST
Part 2: Tu, 01.06.2021, from 10:00 AM CEST

Pre bids are accepted until:
Part 1: Su, 30.05.2021, until 5:00 PM CEST
Part 2: Su, 30.05.2021, until 5:00 PM CEST

Due to the current pandemic situation we will conduct our auction 34 on May 31th and June 1st 2021 without public floor!
Description
Römisch-Deutsches Reich
Trautson. Johann Franz 1621-1663.
Dukat 1636 -Wien-. Brustbild im Harnisch mit umgelegtem Spitzenkragen nach rechts / Gekrönter Wappenschild. Holzm. -, Pavlicek/Schön 34, Fr. 897. In Plastikholder der PCGS (slabbed) mit der Bewertung AU 58
äußerst seltenes Prachtexemplar, leicht gewellt, vorzüglich-Stempelglanz
Das bedeutende österreichische Adelsgeschlecht der Trautson hatte seinen Ursprung in Tirol, siedelte aber Mitte des 16. Jahrhunderts nach Niederösterreich über. Sitz des Grafen- und Fürstengeschlechts war die Renaissancefestung Falkenstein und Schloss Poysbrunn. Seit 1712 war die Hauptresidenz jedoch das Palais Trautson in Wien. 1775 starb das Geschlecht im Mannesstamm aus, sein Besitz und die Erbmarschallwürde von Tirol fiel an die Familie Auersperg.
Bidding
| | |
| --- | --- |
| Starting price | 5'400 EUR |
| Estimate | 6'000 EUR |
Bid live
31 May 2021, from 2:00 PM CEST