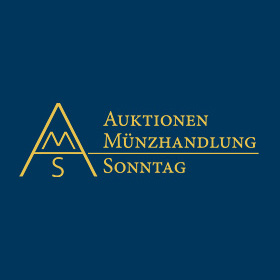 Ancient, German and World Coins and Medals
Part 1: Mo, 31.05.2021, from 2:00 PM CEST
Part 2: Tu, 01.06.2021, from 10:00 AM CEST

Pre bids are accepted until:
Part 1: Su, 30.05.2021, until 5:00 PM CEST
Part 2: Su, 30.05.2021, until 5:00 PM CEST

Due to the current pandemic situation we will conduct our auction 34 on May 31th and June 1st 2021 without public floor!
Description
Ausländische Münzen und Medaillen
Niederlande- Königreich. Willem II. 1840-1849.
10 Gulden 1842 -Utrecht-. Kopf des Königs nach rechts, am Halsabschnitt der vertiefte Name des Stempelschneiders I.P. Schouberg / Gekrönter Wappenschild zwischen der geteilten Wertangabe "10-G". Delm. 1204, Fr. 333, Schl. 125.1. 6,75 g. Auflage: nur 860 Exemplare
äußerst selten in dieser Erhaltung, Kabinettstück, Polierte Platte (proof)
Wilhelm II. von Nassau-Oranien wurde am 6. Dezember 1792 in Den Haag als Sohn König Wilhelms I. geboren. Er wurde in der Militärakademie in Berlin erzogen, studierte dann in Oxford und trat in englische Militärdienste. Als Kronprinz der Niederlande befehligte er das niederländische Heer in den Schlachten bei Quatre-Bras und bei Waterloo. Nach der Abdankung seines Vaters am 7. Oktober 1840 trat er an die Spitze der Regierung mit dem Titel König der Niederlande, Großherzog von Luxemburg und Herzog von Limburg. Er starb am 17. März 1849. Unter seiner Regierung wurde 1848 die parlamentarische Monarchie in den Niederlanden eingeführt. Das vorliegende 10 Gulden-Stück ist das wohl besterhaltene Exemplar dieser an sich schon sehr raren Emission. Absolutes Liebhaberstück!
Bidding
| | |
| --- | --- |
| Starting price | 9'000 EUR |
| Estimate | 10'000 EUR |
Bid live
31 May 2021, from 2:00 PM CEST