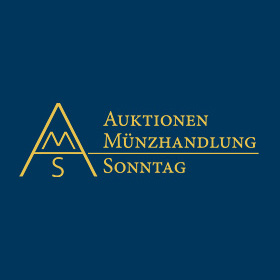 Ancient, German and World Coins and Medals
Part 1: Mo, 31.05.2021, from 2:00 PM CEST
Part 2: Tu, 01.06.2021, from 10:00 AM CEST

Pre bids are accepted until:
Part 1: Su, 30.05.2021, until 5:00 PM CEST
Part 2: Su, 30.05.2021, until 5:00 PM CEST

Due to the current pandemic situation we will conduct our auction 34 on May 31th and June 1st 2021 without public floor!
Description
Ausländische Münzen und Medaillen
Belgien-Brabant. Johann III. 1312-1355.
Goldener Schild (Chaise d'or) o.J. (kaiserliche Prägung nach 1338 im Namen Ludwigs von Bayern) -Antwerpen-. Gekrönter Kaiser auf gotischem Gestühl von vorn thronend mit geschultertem Schwert und Doppeladlerschild in achtbogiger Einfassung / Blumenkreuz im Vierpass, in den Winkeln jeweils ein Kleeblatt. Fr. 4 und 176 (Germany), Delm. 223. 4,42 g
sehr schön-vorzüglich
Ludwig IV. von Bayern ließ die aus England erhaltenen Subsidien in der Reichsmünzstätte Antwerpen in Goldene Schilde vermünzen.
Bidding
| | |
| --- | --- |
| Starting price | 810 EUR |
| Estimate | 900 EUR |
Bid live
31 May 2021, from 2:00 PM CEST