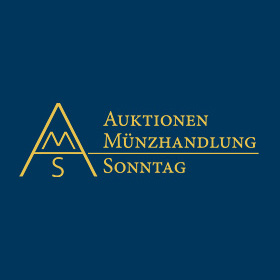 Ancient, German and World Coins and Medals
Part 1: Mo, 31.05.2021, from 2:00 PM CEST
Part 2: Tu, 01.06.2021, from 10:00 AM CEST

The auction is closed.
Due to the current pandemic situation we will conduct our auction 34 on May 31th and June 1st 2021 without public floor!
Description
Lots antiker Münzen
25 Stücke: RÖMER. Republikdenare des C. Vibius Pansa, des Cn. Cornelius Lentulus Clodianus und des P. Clodius M.f. Turinus (Alb. 1191,1205,1583); Denare von Augustus (RIC 207, korrodiert und bearbeitet), Hadrian und Antoninus Pius (2x); Sesterz von Julia Mamaea; As von Claudius (RIC 113); Antoniniane von Probus (2x), Gallienus, Postumus und Tetricus sowie verschiedene Folles von Diocletian (2x), Licinius und Constantin den Großen (3x). Dazu: BYZANZ, geringhaltiger Elektron-Aspron trachy von Isaak II. (sauber geklebter Randausbruch) sowie 4 frühere Kupferfolles.
schön, schön-sehr schön, sehr schön
Bidding
| | |
| --- | --- |
| Price realized | 400 EUR |
| Starting price | 270 EUR |
| Estimate | 300 EUR |
The auction is closed.