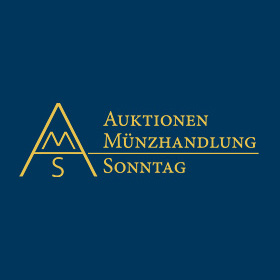 Ancient, German and World Coins and Medals
Part 1: Mo, 31.05.2021, from 2:00 PM CEST
Part 2: Tu, 01.06.2021, from 10:00 AM CEST

Pre bids are accepted until:
Part 1: Su, 30.05.2021, until 5:00 PM CEST
Part 2: Su, 30.05.2021, until 5:00 PM CEST

Due to the current pandemic situation we will conduct our auction 34 on May 31th and June 1st 2021 without public floor!
Description
Römische Münzen
Römische Republik. L. Marcius Philippus 56 v. Chr.
Denar -Rom-. Kopf des Ancus Marcius mit Diadem nach rechts, dahinter Lituus, darunter ANCVS / Reiterstandbild auf Aquädukt mit fünf Bögen nach rechts, in den Bögen A-Q-V-A-MAR, hinter dem Reiter PHILIPPVS. Alb. 1346, Cr. 425/1, Sear 382. 3,73 g
dunkle Patina, sehr schön
Der Münzmeister ist 38 Konsul. Sein Vorfahr, der Praetor Q. Marcius Rex, renovierte 144 v.Chr. die "Aqua Marcia", die König Ancus Marcius erbaut haben soll.
Bidding
| | |
| --- | --- |
| Starting price | 90 EUR |
| Estimate | 100 EUR |
Bid live
31 May 2021, from 2:00 PM CEST