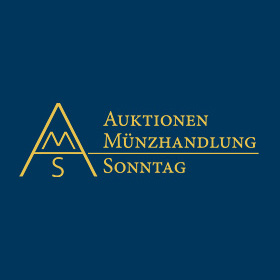 Ancient, German and World Coins and Medals
Part 1: Mo, 31.05.2021, from 2:00 PM CEST
Part 2: Tu, 01.06.2021, from 10:00 AM CEST

Pre bids are accepted until:
Part 1: Su, 30.05.2021, until 5:00 PM CEST
Part 2: Su, 30.05.2021, until 5:00 PM CEST

Due to the current pandemic situation we will conduct our auction 34 on May 31th and June 1st 2021 without public floor!
Description
Griechische Münzen
Kyrenaika. Kyrene.
AV-Hemidrachme (= Triobol) 322-313 v. Chr. Athenakopf im korinthischen Helm mit Helmzier nach rechts / K-Y-P-A. Drei Silphionstauden dreieckförmig um einen dicken Zentralpunkt angeordnet. Naville (Cyrénaique) 50,112c (dieses Exemplar!), SNG Cop. 1211, Boston 1331. 2,13 g
sehr selten, sehr schön
Exemplar der Slg. L. Naville, erworben von H.H. Kricheldorf, Freiburg/Br., im Januar 1963.
Bidding
| | |
| --- | --- |
| Starting price | 1'800 EUR |
| Estimate | 2'000 EUR |
Bid live
31 May 2021, from 2:00 PM CEST