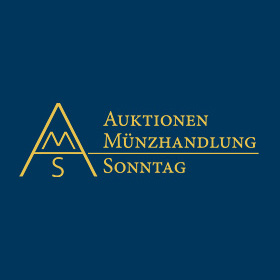 Ancient, German and World Coins and Medals
Part 1: Mo, 31.05.2021, from 2:00 PM CEST
Part 2: Tu, 01.06.2021, from 10:00 AM CEST

Pre bids are accepted until:
Part 1: Su, 30.05.2021, until 5:00 PM CEST
Part 2: Su, 30.05.2021, until 5:00 PM CEST

Due to the current pandemic situation we will conduct our auction 34 on May 31th and June 1st 2021 without public floor!
Description
Griechische Münzen
Aiolis. Kyme.
El-Stater um 495 v. Chr. Freies Pferd im Galopp nach links, darunter Efeublatt / Viergeteiltes Qua­dratum incusum mit unterschiedlich aufgefüllten Teilquadraten. SNG von Aulock 7798 (dieses Exemplar!), Boston 1812, Traité Tf. VIII,14. 14,04 g
sehr selten, leichte Prägeschwäche, sehr schön
Dieser Elektronstater aus Kleinasien, der nach dem milesischen Münzfuß geprägt wurde, steht möglicherweise im Zusammenhang mit der ersten Ionischen Revolte 498-494 v.Chr. Die von uns getätigte Zuweisung nach Kyme auf Aiolis ist nicht eindeutig gesichert, der Stater könnte auch in einem anderen, gebietsnahen Münzstand in Kleinasien entstanden sein. Erworben von der Bank Leu AG, Zürich, im Juni 1971, ex. Slg. H. von Aulock, ehemals aus dem Fund von Vourla 1911 (IGCH 1167).
Bidding
| | |
| --- | --- |
| Starting price | 8'100 EUR |
| Estimate | 9'000 EUR |
Bid live
31 May 2021, from 2:00 PM CEST