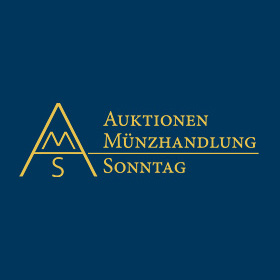 Ancient, German and World Coins and Medals
Part 1: Mo, 31.05.2021, from 2:00 PM CEST
Part 2: Tu, 01.06.2021, from 10:00 AM CEST

Pre bids are accepted until:
Part 1: Su, 30.05.2021, until 5:00 PM CEST
Part 2: Su, 30.05.2021, until 5:00 PM CEST

Due to the current pandemic situation we will conduct our auction 34 on May 31th and June 1st 2021 without public floor!
Description
Griechische Münzen
Lukania. Metapont.
AV-Drittelstater 330-320 v. Chr. Kopf einer Göttin (Hera?) nach rechts mit Stephane im Haar, geschmückt mit einem länglichen Ohranhänger / METAPON. Kornähre mit Halm, auf dem eine Taube nach rechts sitzt. SNG ANS 395, Johnston (Metapont) 3, 84, G1. 2,60 g
sehr selten und von feinem spätklassizistischem Stil, sehr schön-vorzüglich
Der göttliche Frauenkopf auf der Vorderseite wurde zuweilen als Hera, Demeter oder Nike gedeutet, eine sichere Zuweisung erscheint momentan (noch) nicht möglich. Erworben von der Münzenhandlung Ilse Ernst-Algie, Stuttgart, im Mai 1969.
Bidding
| | |
| --- | --- |
| Starting price | 3'600 EUR |
| Estimate | 4'000 EUR |
Bid live
31 May 2021, from 2:00 PM CEST