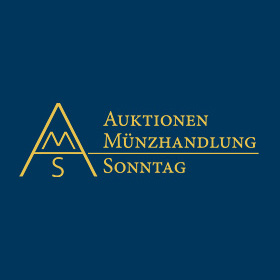 Ancient, German and World Coins and Medals
Part 1: Mo, 23.11.2020, from 2:00 PM CET
Part 2: Tu, 24.11.2020, from 10:00 AM CET

The auction is closed.
Due to the current pandemic situation we will conduct our auction 33 on November 23rd and 24th without public floor!
Description
Ausländische Münzen und Medaillen. Ägypten. Abdul Aziz 1861-1876 AD/1277-1293 AH
Mattierte Silbermedaille 1869 von O. Roty, auf die Einweihung des Suezkanals am 17. November und den Beitrag der französischen Sparer am Kanalbau. Weibliche Gestalt sitzt nach rechts auf Warenballen, in der Rechten ein Olivenzweig, in der erhobenen Linken eine Fackel, zu ihren Füßen ein Füllhorn. Ihr gegenüber steht die personifizierte Industrie und hält ihr eine Spardose entgegen / Sieben Zeilen Schrift. Slg. Peltzer 2409, Lecompte 1. 42,2 mm, 47,82 g. Mit Randpunzen "Füllhorn" und "ARGENT"
minimaler Randfehler, vorzüglich
Bidding
| | |
| --- | --- |
| Price realized | 120 EUR |
| Starting price | 90 EUR |
| Estimate | 100 EUR |
The auction is closed.