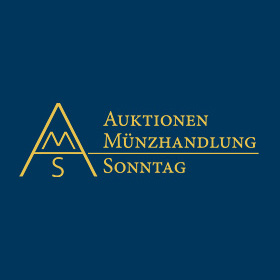 Ancient, German and World Coins and Medals
Part 1: Mo, 06.07.2020, from 01:00 PM CEST
Part 2: Tu, 07.07.2020, from 10:00 AM CEST

Pre bids are accepted until:
Part 1: Su, 05.07.2020, until 05:00 PM CEST
Part 2: Su, 05.07.2020, until 05:00 PM CEST

Due to the current pandemic situation we will conduct our auction 32 on July 6th and 7th without public floor!
Description
Württemberg. Wilhelm Ludwig 1674-1677
Taler 1677. Stempel von Johann Christoph Müller, auf seinen Tod. Gepan­zertes Brustbild nach rechts mit Feldherrnbinde und Spitzenjabot, unten die Signatur ICM / Elfzeilige lateinische Inschrift mit Geburts- und Sterbedatum in einem Lorbeer- und Zypressenzweig, umschlungen von einem Band mit der Aufschrift IN-DEO-SPES-MEA (= Auf Gott [ruht] meine Hoffnung), unten ein Totenkopf. KR 606, Ebner 4, Dav. 7877.
sehr selten, feine Patina, kleiner Schrötlingsfehler und winzige Sammlerpunze auf dem Rand,
vorzüglich-Stempelglanz
Unter dem nur kurz regierenden Herzog Wilhelm Ludwig wurden nur zwei Münzsorten geprägt, der zu Repräsentationszwecken ausgebrachte Taler von 1677 und die einseitigen, undatierten Pfennige. Der hier angebotene Sterbetaler wurde erst 1680 von Herzog Friedrich Karl zum Andenken an seinen Bruder posthum geprägt. Exemplar der Sammlung Schloßberger, aus Auktion G. Hirsch Nachf. 175, München 1992, Nr. 3126.
Bidding
| | |
| --- | --- |
| Starting price | 13'500 EUR |
| Estimate | 15'000 EUR |
Bid live
7 Jul. 2020, from 10:00 AM CEST