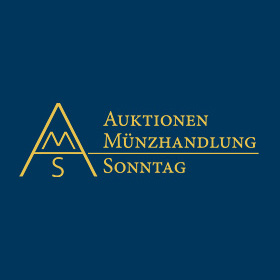 Ancient, German and World Coins and Medals
Part 1: Mo, 06.07.2020, from 01:00 PM CEST
Part 2: Tu, 07.07.2020, from 10:00 AM CEST

Pre bids are accepted until:
Part 1: Su, 05.07.2020, until 05:00 PM CEST
Part 2: Su, 05.07.2020, until 05:00 PM CEST

Due to the current pandemic situation we will conduct our auction 32 on July 6th and 7th without public floor!
Description
Nürnberg, Stadt.
Silbermedaille 1537 von Matthes Gebel, auf den Patrizier Hans Haller von Hallerstein. Dessen bärtiges Brustbild mit Barett im Alter von 45 Jahren nach rechts / Zweifach behelmtes Familienwappen. Slg. Erl. -, Habich 1151, Imh. II 360.3. 31 mm, 12,69 g
sehr seltener, vorzüglicher Originalguss mit feiner Patina
Hans Haller von Hallerstein d.Ä. wurde 1492 geboren und war Mitglied des Ältestenrats (Septemvirn) und Baumeister. Er starb kinderlos 1536. Die Familie Haller von Hallerstein zählt zu den ältesten und wichtigsten Patrizierfamilien Nürnbergs. Noch heute ist eines der Tore der Nürnberger Altstadt nach ihnen benannt. Wir konnten kein vorangegangenes Auktionsvorkommen feststellen. Habich kannte nur die zwei Exemplare in Paris und Nürnberg. Aus alter Nürnberger Privatsammlung.
Bidding
| | |
| --- | --- |
| Starting price | 3'600 EUR |
| Estimate | 4'000 EUR |
Bid live
7 Jul. 2020, from 10:00 AM CEST