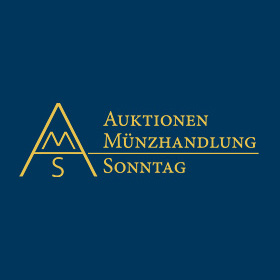 Ancient, German and World Coins and Medals
Part 1: Mo, 06.07.2020, from 01:00 PM CEST
Part 2: Tu, 07.07.2020, from 10:00 AM CEST

Pre bids are accepted until:
Part 1: Su, 05.07.2020, until 05:00 PM CEST
Part 2: Su, 05.07.2020, until 05:00 PM CEST

Due to the current pandemic situation we will conduct our auction 32 on July 6th and 7th without public floor!
Description
Anhalt-Bernburg-Harzgerode. Wilhelm 1670-1709
Silbermedaille 1695 von G. Eichler, auf die Verleihung des dänischen Elefanten­ordens an den Fürsten. Brustbild im Harnisch mit Mantel und umgelegter Kette des Elefantenordens nach rechts / In Landschaft nach rechts stehender Elefant mit Turm und Führer (das Ordenskleinod), darüber Schriftband mit der Devise des Ordens "MAGNANIMI PRETIUM" (= Preis der Groß­zügigkeit). Mann 844. 52 mm, 56,38 g
sehr seltenes, attraktives Exemplar mit feiner Patina, vorzüglich
Der Elefanten-Orden ist der höchste und älteste dänische Ritterorden und, abgesehen von Sonderanfertigungen, das weltweit handwerklich am aufwändigsten ausgeführte Kleinod. M. Gritzner schreibt dazu in seinem "Handbuch der Ritter- und Verdienstorden" (Leipzig 1893): "Gestiftet als "Ordensbrüderschaft" für beide Geschlechter von König Christian I. anno 1462, erneuert und mit Statuten versehen durch König Christian V. am 1. Dezember 1693. Hiernach soll der Orden dreißig Ritter haben, ausgenommen der König als Ordensherr und seine Söhne. Die Ritter müssen dreißig Jahre alt sein, ausgenommen wiederum der Ordensherr und seine Söhne, die den Orden mit zwanzig Jahren erhalten. Aufnahme finden nur protestantische Potentaten und Herren des Geheimen Rats in Dänemark sowie Minister, Generale, endlich Ritter des Danebrogordens, den sie zuvor besitzen müssen."
Bidding
| | |
| --- | --- |
| Starting price | 3'600 EUR |
| Estimate | 4'000 EUR |
Bid live
7 Jul. 2020, from 10:00 AM CEST