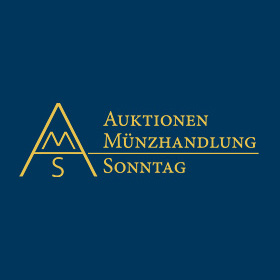 Ancient, German and World Coins and Medals
Part 1: Mo, 06.07.2020, from 01:00 PM CEST
Part 2: Tu, 07.07.2020, from 10:00 AM CEST

The auction is closed.
Due to the current pandemic situation we will conduct our auction 32 on July 6th and 7th without public floor!
Description
33 Stücke: GRIECHEN. Dabei THRAKIA, Tetradrachme des Lysimachos (posthum); MAKE­DONIA, 2x Drachme Alexander der Große; Didrachme von RHODOS; Tetrobol von BYZANTION; Kleinbronzen von PONTUS, MYSIA-Pergamon, IONIA-Milet und CARIA-Rhodos; ÄGYPTIA, AE-46 mm der Ptolemäer; JUDÄA, 4 Kleinbronzen, PARTHIA, Tetradrachme Antiochos VII.; SASSANIDIA, Drachme des Xhusro II.; SKYTHIA, Drachme des Apollodotos II. Dazu: 8 Tetradrachmen als römische Provinzialprägung -Alexandria- (für ÄGYPTIA, davon 3x 1. Jahrhundert und 5x 3. Jahrhundert), Provinzialprägung Antonius Pius für Syria (AE-21 mm); 4 Bronzemünzen von BYZANZ 9.-11. Jh.; Cu-Dirhem der Ortokiden (nach byzantinischem Vorbild) sowie 2x Händleinheller von Schwäbisch Hall.
fast alle in beschrifteten Münzrähmchen bzw. BW-Bank-Kärtchen, schön-sehr schön, sehr schön
Bidding
| | |
| --- | --- |
| Price realized | 700 EUR |
| Starting price | 450 EUR |
| Estimate | 500 EUR |
The auction is closed.